MB ADRIATIC KING
*SPECIAL OFFER*
General description:
Newly built 2021
Length: 52m
Width: 8.6m
Speed: 10 nm
Passengers: 40
Cabins: 19
220V
Fully air-conditioned
Restaurant
Lounge bar and outdoor seating
Pool
Jacuzzi
Spacious sun deck with sun beds
Air-conditioned cabins with private bathroom and TV
Wi-Fi free of charge
11 cabins on main deck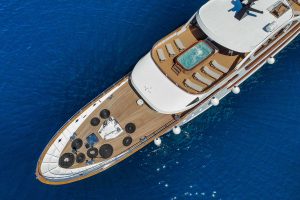 CRUISE ITINERARY
Route AK100 SPLIT – SPLIT
8-days cruise: Split – Bol – Jelsa – Korčula – Mljet (Pomena) – Lastovo – Vis – Hvar – Milna – Split
Departure dates: September 11th 2021 – GUARANTEED DEPARTURE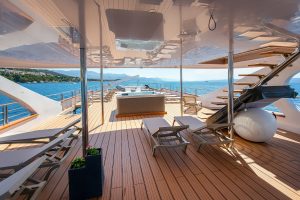 DAY 1 / SATURDAY: SPLIT
Embarkation begins at 3 o'clock pm. Get settled in your cabin. In the evening join us for a welcome drink followed by dinner. Overnight in Split. (WD, D)
DAY 2 / SUNDAY: SPLIT – BOL – JELSA
Early in the morning we leave Split and head to our first destination, Bol on the island of Brač. Bol is beautiful dalmatian town famous for its unique beach, Golden Cape, which changes its shape under the influence of currents and winds. You can reach Golden Cape by taking a walk on the promenade which leads through the town (it takes around 15 minutes of walk) or you can take a small train. Upon return on board, a lunch will be served. Our next stop is Jelsa on the island of Hvar. On our way, we'll make a swim stop. Upon arrival in Jelsa, you will have free time to explore at your own pace this beautiful small town, situated in the heart of the island of Hvar. Jelsa abounds in lush vegetation and sources and is well known for its versatile food and wine offer. Overnight in Jelsa. (B, L).
DAY 3 / MONDAY: JELSA – KORČULA
This morning we head to Korčula and we'll make a swim stop along the sail. We arrive in Korčula in the afternoon. Korčula is one of the best-preserved medieval cities in the Mediterranean, thought to be the birthplace of the famous explorer Marco Polo. Its architecture is very interesting, the town itself is divided in western and eastern side, and if viewed from bird's eye, it reminds of a fishbone. In the evening, you can enjoy in Korčula's relaxed atmosphere, you can walk through its narrow, cobbled streets or dine in one of numerous restaurants. Overnight in Korčula. (B, L)
DAY 4 / TUESDAY: KORČULA – MLJET – LASTOVO
Our next destination is Ulysses' island, the island of Mljet. Upon arrival in Pomena, we can arrange a visit to National Park Mljet (payment will be made on board). National Park Mljet is well known for its versatile eco-system and two salt lakes (''Veliko jezero''- Big Lake and ''Malo jezero''- Small Lake) as well as for Benedictine Monastery from 12th century located on the St Mary's Islet. Upon return on ship, lunch on board. We continue the navigation towards the island of Lastovo. This evening is reserved for some fun. Enjoy Captain's dinner on board. Overnight in Lastovo.  (B, L, CD)
DAY 5 / WEDNESDAY: LASTOVO – VIS
This morning we turn our compass towards Vis, a small town on homonymous Island. Although it is a small town, due to its location, Vis had an immense strategical importance throughout the years, and it was often the scene of big naval battles. In ex-Yugoslavia, Vis was almost closed for visits and thus was kept from excessive tourism. Enjoy your free time in this charming town, explore it at your own pace or visit some of its numerous forts. Overnight in Vis. (B, L)
DAY 6 / THURSDAY: VIS – HVAR
Our next destination is one of the Croatia's most favourite tourist places, town of Hvar. We'll make a swim stop along the sail and enjoy the lunch on board. Enjoy your evening in Hvar, stroll its streets and soak up the atmosphere, enjoy the views of its beautiful architecture and famous landmarks like Cathedral of St Stephen, Arsenal, the Theatre which is one of the oldest in Europe dating back from 1612, Spanish Fortress. Overnight in Hvar. (B, L)
DAY 7 / FRIDAY: HVAR – MILNA
We leave Hvar in the morning and head to Milna on the island of Brač, with swim stop along the sail. Milna is located on the western part of Brač island. Due to its position and the bay in which it is situated, during the centuries it has served as a safe port and shelter, even for Roman ships during the construction of Diocletian's Palace in Split. Overnight in Milna. (B, L)
DAY 8 / SATURDAY: MILNA – SPLIT
In the morning we leave Milna and head back to Split, our departure port and final point. Upon arrival, it is time to disembark. We wish you safe return to your home with plenty of beautiful memories that you will bring from this cruise (B).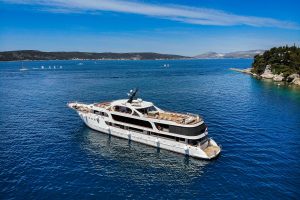 B = breakfast, L = lunch, D = diner, WD = Welcome Drink, CD = Captain's diner
Price per person:
Main deck: 805,00 eur pp
Lower deck: 735,00 eur pp
Price includes:
7-nights in fully equipped and air-conditioned cabins with private bathroom and TV
Meals based on HB (7x breakfast, 6x lunch, 1 diner)
Welcome drink and Captain's diner
Daily cabin service
Cruise Manager
Free Wi-Fi on board
Price does not include:
Taxes and fees – 26,00 eur per person per week (to be paid on board)
Drinks on board
Entrance to National Park Mljet
Minimum attendance for this cruise is 30 pax.
IN CASE OF BAD WEATHER, THE CAPTAIN HAS A RIGHT TO CHANGE THE ITINERARY IN ORDER TO KEEP THE PASSENGERS SAFE AND PROTECTED!